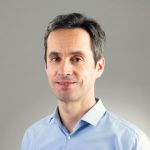 Dr. Alain Pagani
| | |
| --- | --- |
| E-Mail: | alain.pagani@dfki.de |
| Position: | Deputy Director |
| Phone: | +49 631 20575-3530 |
Dr. Alain Pagani studied computer science at the Ecole Centrale (Lyon, France, 2001) and at the Technical University of Darmstadt (Germany, 2003). He started his career as a researcher at the Augmented Reality department of the Fraunhofer Institute for Computer Graphics (Fraunhofer IGD, Darmstadt, Germany). In 2008, he participated to the creation of the Augmented Vision department of the German Research Center for Artificial Intelligence (DFKI) in Kaiserslautern, where he currently acts as deputy director. He obtained his PhD from the University of Kaiserslautern with a thesis entitled "Reality Models for efficient registration in Augmented Reality", in which he tackled the problem or real-time pose estimation for AR using various mathematical models of real scenes.
His research interests include Computer Vision, Artificial Intelligence, Image Understanding, Augmented Reality and Machine Learning, and he published over 80 articles in conferences and journals. Parallel to his work at DFKI, he gives lectures at the Technical University of Kaiserslautern ("Computer Vision: Object and People Tracking", and "3D Computer Vision").
In his recent research activities, he contributes to European projects (Horizon Europe programme), with applications such as eXtended Reality for telecooperation  ("CORTEX²", EU Grant 101070192), Artificial Intelligence and Computer Vision for Human-Robot cooperation ("FLUENTLY", EU Grant 101058680), Artificial Intelligence and Augmented Reality for analysis of extremely large data ("ExtremeXP", EU Grant 101093164) as well as to industrial applications.
114 Publications by Dr. Alain Pagani:
Polar-Ano: Surface Anomaly Detection via Deep Polarization Imaging and Data Synthesis with Physic-based Rendering
Yaxu Xie, Alain Pagani, Didier Stricker
In: 2023 17th International Conference on Signal-Image Technology & Internet-Based Systems. International Conference on Signal-Image Technology & Internet-Based Systems (SITIS-2023), November 8-10, Bangkok, Thailand, IEEE, 2023.
Details | Link 1
Vision-Based Ladle Monitoring System for Steel Factories
Mohamed Selim, Pablo López de Uralde, Jon Mata, Eider Gorostegui-Colinas, Beatriz Chicote, Alain Pagani, Didier Stricker
In: Proceedings of the 1st European Symposium on Artificial Intelligence in Manufacturing. European Symposium on Artificial Intelligence in Manufacturing (ESAIM-2023), September 19, Kaiserslautern, Germany, 2023.
Details
Camera-based position analysis system for cyclists ordering in bicycle swarms
Vemburaj Yadav, Alain Pagani, Didier Stricker
In: Workshop on Smart Urban Micromobility. Mensch und Computer (MuC-2023), September 3-6, Zürich, Switzerland, ACM, 2023.
Details | Link 1
Dynamic Cost Volumes with Scalable Transformer Architecture for Optical Flow
Vemburaj Yadav, Alain Pagani, Didier Stricker
In: Irish Pattern Recognition and Classification Society. Irish Machine Vision and Image Processing Conference (IMVIP-2023), August 30 - September 1, Galway, Ireland, zenodo, 2023.
Details | Link 1
CORTEX² Extended collaborative telepresence for future work and education
Alain Pagani, Nareg Minaskan Karabid, Alireza Javanmardi, Yaxu Xie, Sylvain Rivier, Vincent Bailleau, Emmanuel Helbert, Pierre-Yves Noel, Yazid Benazzouz, Jean-Pierre Lorré, Franklyn Ohai, Maja Nisevic, Anton Vedder, Gael de Chalendar, Vasileios Theodorou, Ilia Pietri, Maria-Evgenia Xezonaki, Florian Andres, Lydia Szymendera, Olivier Grzelak, Cristina Gasch, Azucena Garcia-Palacios
In: Research Colloquium. Leading & Managing in the Digital Era (LMDE-2023), June 19-20, Athens, Greece, LMDE, 2023.
Details | Link 1
Towards Incorporating 3D Space-Awareness into an Augmented Reality Sign Language Interpreter
Fabrizio Nunnari, Eleftherios Avramidis, Vemburaj Yadav, Alain Pagani, Yasser Hamidullah, Sepideh Mollanorozy, Cristina España-Bonet, Emil Woop, Patrick Gebhard
In: Proceedings of the Eighth International Workshop on Sign Language Translation and Avatar Technology. International Workshop on Sign Language Translation and Avatar Technology (SLTAT-2023), located at ICASSP 2023, June 10, Rhodes, Greece, IEEE, 6/2023.
Details | Link 1
Learning Attention Propagation for Compositional Zero-Shot Learning
Muhammad Gulzain Ali Khan, Muhammad Ferjad Naeem, Luc Van Gool, Alain Pagani, Didier Stricker, Muhammad Zeshan Afzal
In: Proceedings of. IEEE Winter Conference on Applications of Computer Vision (WACV-2023), IEEE Xplore, 2023.
Details | Link 1
Principles of Object Tracking and Mapping
Jason Raphael Rambach, Alain Pagani, Didier Stricker
In: Andrew Yeh Ching Nee; Soh Khim Ong. Springer Handbook of Augmented Reality. Pages 53-84, Springer Handbooks, ISBN 978-3-030-67821-0, Springer, Switzerland, 1/2023.
Details | Link 1
Structure PLP-SLAM: Efficient Sparse Mapping and Localization using Point, Line and Plane for Monocular, RGB-D and Stereo Cameras
Fangwen Shu, Jiaxuan Wang, Alain Pagani, Didier Stricker
In: IEEE. IEEE International Conference on Robotics and Automation (ICRA-2023), May 29 - June 2, London, United Kingdom, IEEE, 2023.
Details | Link 1
Rethinking Learnable Proposals for Graphical Object Detection in Scanned Document Images
Sankalp Sinha, Khurram Azeem Hashmi, Alain Pagani, Marcus Liwicki, Didier Stricker, Muhammad Zeshan Afzal
Applied Sciences (MDPI) 12 20 Seiten 1-22 MDPI Switzerland 10/2022 .
Details | Link 1 | Link 2
Attention-Guided Disentangled Feature Aggregation for Video Object Detection
Shishir Muralidhara, Khurram Azeem Hashmi, Alain Pagani, Marcus Liwicki, Didier Stricker, Muhammad Zeshan Afzal
Sensors - Open Access Journal (Sensors) 22 21 Seiten 1-17 MDPI Switzerland 11/2022 .
Details | Link 1 | Link 2
BoxMask: Revisiting Bounding Box Supervision for Video Object Detection
Khurram Azeem Hashmi, Alain Pagani, Didier Stricker, Muhammad Zeshan Afzal
In: Winter Conference on Applications of Computer Vision 2023. IEEE Winter Conference on Applications of Computer Vision (WACV-2023), January 3-8, Waikoloa, HI, USA, CVF, 2023.
Details | Link 1 | Link 2
Mask-Aware Semi-Supervised Object Detection in Floor Plans
Tahira Shehzadi, Khurram Azeem Hashmi, Alain Pagani, Marcus Liwicki, Didier Stricker, Muhammad Zeshan Afzal
Applied Sciences (Hrsg.). Applied Sciences (MDPI) 12 9 Seiten 1-18 MDPI Switzerland 9/2022 .
Details | Link 1
A narrative review of immersive virtual reality's ergonomics and risks at the workplace: cybersickness, visual fatigue, muscular fatigue, acute stress, and mental overload
Alexis D. Souchet, Domitile Lourdeaux, Alain Pagani, Lisa Rebenitsch
Virtual Reality 1 Seiten 1-32 Springer 7/2022 .
Details | Link 1
3D Reconstruction from a Single RGB Image using Deep Learning: A Review
Muhammad Saif Ullah Khan, Alain Pagani, Marcus Liwicki, Didier Stricker, Muhammad Zeshan Afzal
Journal of Imaging (MDPI J) 8 225 Seiten 1-23 MDPI 8/2022 .
Details | Link 1
Investigating Attention Mechanism for Page Object Detection in Document Images
Shivam Naik, Khurram Azeem Hashmi, Alain Pagani, Marcus Liwicki, Didier Stricker, Muhammad Zeshan Afzal
Applied Sciences (MDPI) 12 15 Seiten 3390-3408 MDPI Switzerland 7/2022 .
Details | Link 1 | Link 2
Deep Orientation-Guided Gender Recognition from Face Images
Mohamed Selim, Stephan Krauß, Tewodros Amberbir Habtegebrial, Alain Pagani, Didier Stricker
International Conference on Pattern Recognition Systems. International Conference on Pattern Recognition Systems (ICPRS-2022) June 7-10 Saint-Étienne France IEEE 2022 .
Details | Link 1
Human intelligent machine teaming in single pilot operation: A case study
Nareg Minaskan Karabid, Charles-Alban Dormoy, Alain Pagani, Jean-Marc Andre, Didier Stricker
HCI International 2022. Human Computer Interaction International Conferences (HCII-2022) June 26-July 1 Gothenburg/Virtual Sweden Springer 2022 .
Details | Link 1
Toward Semi-Supervised Graphical Object Detection in Document Images
Goutham Kallempudi, Khurram Azeem Hashmi, Alain Pagani, Marcus Liwicki, Didier Stricker, Muhammad Zeshan Afzal
Future Internet (MDPI) 14 6 Seiten 176-198 MDPI Switzerland 6/2022 .
Details | Link 1 | Link 2
Exploiting Concepts of Instance Segmentation to Boost Detection in Challenging Environments
Khurram Azeem Hashmi, Alain Pagani, Marcus Liwicki, Didier Stricker, Muhammad Zeshan Afzal
Sensors - Open Access Journal (Sensors) 22 Seiten 3703-3722 MDPI Switzerland 5/2022 .
Details | Link 1
EmmDocClassifier: Efficient Multimodal Document Image Classifier for Scarce Data
Shrinidhi Kanchi, Alain Pagani, Hamam Mokayed, Marcus Liwicki, Didier Stricker, Muhammad Zeshan Afzal
Applied Sciences (MDPI) 12 3 Seiten 1-18 MDPI 1/2022 .
Details | Link 1 | Link 2
CasTabDetectoRS: Cascade Network for Table Detection in Document Images with Recursive Feature Pyramid and Switchable Atrous Convolution
Khurram Azeem Hashmi, Alain Pagani, Marcus Liwicki, Didier Stricker, Muhammad Zeshan Afzal
Journal of Imaging (MDPI J) 7 10 Seiten 214-237 MDPI 10/2021 .
Details | Link 1
Contrastive Learning for 3D Point Clouds Classification and Shape Completion
Danish Nazir, Muhammad Zeshan Afzal, Alain Pagani, Marcus Liwicki, Didier Stricker
Sensors - Open Access Journal (Sensors) 21 Seiten 1-17 MDPI Switzerland 11/2021 .
Details | Link 1
HybridTabNet: Towards Better Table Detection in Scanned Document Images
Danish Nazir, Khurram Azeem Hashmi, Alain Pagani, Marcus Liwicki, Didier Stricker, Muhammad Zeshan Afzal
Antonio Fernández (Hrsg.). Applied Sciences (MDPI) 11 18 Seiten 8396-8418 MDPI Switzerland 9/2021 .
Details | Link 1
Towards Robust Object detection in Floor Plan Images: A Data Augmentation Approach
Shashank Mishra, Khurram Azeem Hashmi, Alain Pagani, Marcus Liwicki, Didier Stricker, Muhammad Zeshan Afzal
Applied Sciences (MDPI) 11 23 Seiten 1-22 MDPI 11/2021 .
Details | Link 1
Pose Tracking vs. Pose Estimation of AR Glasses with Convolutional, Recurrent, and Non-Local Neural Networks: A Comparison
Ahmet Firintepe, Sarfaraz Habib, Alain Pagani, Didier Stricker
Proceedings of. EuroXR International Conference (EuroXR-2021) November 24-26 Milan Italy MDPI 2021 .
Details | Link 1
PlaneRecNet: Multi-Task Learning with Cross-Task Consistency for Piece-Wise Plane Detection and Reconstruction from a Single RGB Image
Yaxu Xie, Fangwen Shu, Alain Pagani, Jason Raphael Rambach, Didier Stricker
British Machine Vision Conference. British Machine Vision Conference (BMVC-2021) November 22-25 United Kingdom British Machine Vision Conference 11/2021 .
Details | Link 1
Cascade Network with Deformable Composite Backbone for Formula Detection in Scanned Document Images
Khurram Azeem Hashmi, Alain Pagani, Marcus Liwicki, Didier Stricker, Muhammad Zeshan Afzal
Applied Sciences (MDPI) 11 16 Seite 7610 MDPI Switzerland 8/2021 .
Details | Link 1
Comparing Head and AR Glasses Pose Estimation
Ahmet Firintepe, Oussema Dhaouadi, Alain Pagani, Didier Stricker
IEEE Adjunct Proceeding of. IEEE International Symposium on Mixed and Augmented Reality (ISMAR-21) IEEE 2021 .
Details | Link 1
A Study of Human-Machine Teaming For Single Pilot Operation with Augmented Reality
Nareg Minaskan Karabid, Alain Pagani, Charles-Alban Dormoy, Jean-Marc Andre, Didier Stricker
IEEE Adjunct Proceeding of. IEEE International Symposium on Mixed and Augmented Reality (ISMAR-21) IEEE 2021 .
Details | Link 1
Visual SLAM with Graph-Cut Optimized Multi-Plane Reconstruction
Fangwen Shu, Yaxu Xie, Jason Raphael Rambach, Alain Pagani, Didier Stricker
IEEE. IEEE International Symposium on Mixed and Augmented Reality (ISMAR-2021) October 4-8 Bari Italy IEEE 2021 .
Details | Link 1
Survey and Performance Analysis of Deep Learning Based Object Detection in Challenging Environments
Muhammad Ahmed, Khurram Azeem Hashmi, Alain Pagani, Marcus Liwicki, Didier Stricker, Muhammad Zeshan Afzal
Radu Danescu (Hrsg.). Sensors - Open Access Journal (Sensors) 21 15 Seiten 1-30 MDPI 2021 .
Details | Link 1 | Link 2
Data-Driven Artificial Intelligence Applications for Sustainable Precision Agriculture
Maria Teresa Linaza, Jorge Posada, Jürgen Bund, Peter Eisert, Marco Quartulli, Jürgen Döllner, Alain Pagani, Igor G. Olaizola, Andre Barriguinha, Theocharis Moysiadis, Laurent Lucat
Paul Kwan (Hrsg.). Agronomy 11 1227 Seiten 1-14 MDPI 6/2021 .
Details | Link 1 | Link 2
Mixed reality applications in urology: Requirements and future potential
Gerd Reis, Mehmet Yilmaz, Jason Raphael Rambach, Alain Pagani, Rodrigo Suarez-Ibarrola, Arkadiusz Miernik, Paul Lesur, Nareg Minaskan Karabid
Elsevier (Hrsg.). Annals of Medicine and Surgery 66 Seiten 1-6 Elsevier 2021 .
Details | Link 1
From IR Images to Point Clouds to Pose: Point Cloud-Based AR Glasses Pose Estimation
Ahmet Firintepe, Carolin Vey, Stylianos Asteriadis, Alain Pagani, Didier Stricker
Nadia Magnenat Thalmann (Hrsg.). Journal of Imaging 7 80 Seiten 1-18 MDPI 4/2021 .
Details | Link 1
A Comparison of Single and Multi-View IR image-based AR Glasses Pose Estimation Approaches
Ahmet Firintepe, Alain Pagani, Didier Stricker
Proceedings of the IEEE Virtual Reality conference. IEEE Conference on Virtual Reality and 3D User Interfaces Abstracts and Workshops (VRW) (IEEEVR-2021) IEEE 2021 .
Details | Link 1 | Link 2
SynPo-Net--Accurate and Fast CNN-Based 6DoF Object Pose Estimation Using Synthetic Training
Yongzhi Su, Jason Raphael Rambach, Alain Pagani, Didier Stricker
Special Issue Object Tracking and Motion Analysis, Sensors - Open Access Journal (Sensors) 21 Seite 300 MDPI 2021 .
Details | Link 1
SLAM in the Field: An Evaluation of Monocular Mapping and Localization on Challenging Dynamic Agricultural Environment
Fangwen Shu, Paul Lesur, Yaxu Xie, Alain Pagani, Didier Stricker
Winter Conference on Applications of Computer Vision. IEEE Winter Conference on Applications of Computer Vision (WACV-2021) January 5-9 Waikoloa Hawaii United States IEEE 2021 .
Details | Link 1 | Link 2
AutoPOSE: Large-Scale Automotive Driver Head Pose and Gaze Dataset with Deep Head Pose Baseline
Mohamed Selim, Ahmet Firintepe, Alain Pagani, Didier Stricker
International Conference on Computer Vision Theory and Applications (VISAPP). International Conference on Computer Vision Theory and Applications (VISAPP-2020) 15th February 27-29 Valletta Malta SCITEPRESS Digital Library 2020 .
Details | Link 1
HMDPose: A large-scale trinocular IR Augmented Reality Glasses Pose Dataset
Ahmet Firintepe, Alain Pagani, Didier Stricker
Proc. of. ACM Symposium on Virtual Reality Software and Technology (VRST-2020) ACM 2020 .
Details | Link 1
Automatic Museum Audio Guide
Noelia Vallez, Stephan Krauß, Jose-Luis Espinosa-Aranda, Alain Pagani, Kasra Seirafi, Oscar Deniz
Sensors - Open Access Journal (sensors) 20 779 Seiten 1-25 MDPI 2020 .
Details | Link 1
The More, the Merrier? A Study on In-Car IR-based Head Pose Estimation
Ahmet Firintepe, Mohamed Selim, Alain Pagani, Didier Stricker
Proceedings. IEEE Intelligent Vehicles Symposium (IV-2020) 31st October 20-23 Las Vegas Nevada United States IEEE 2020 .
Details | Link 1
Augmented Reality Geovisualisation for Underground Utilities
Efstratios Stylianidis, Elena Valari, Alain Pagani, Ivan Carrillo, Anastasis Kounoudes, Konstantinos Michail, Konstantinos Smagas
Journal of Photogrammetry, Remote Sensing and Geoinformation Science (PFG) 1 Seiten 1-13 Springer 4/2020 .
Details | Link 1
TGA: Two-level Group Attention for Assembly State Detection
Hangfan Liu, Yongzhi Su, Jason Raphael Rambach, Alain Pagani, Didier Stricker
Proceedings of the 19th IEEE ISMAR. IEEE International Symposium on Mixed and Augmented Reality (ISMAR-2020) November 9-13 Recife/Porto de Galinhas Brazil IEEE 2020 .
Details | Link 1
SlamCraft: Dense Planar RGB Monocular SLAM
Jason Raphael Rambach, Paul Lesur, Alain Pagani, Didier Stricker
Proceedings of. IAPR Conference on Machine Vision Applications (MVA-2019) May 27-31 Tokyo Japan IAPR 2019 .
Details | Link 1
Deep Multi-State Object Pose Estimation for Augmented Reality Assembly
Yongzhi Su, Jason Raphael Rambach, Nareg Minaskan Karabid, Paul Lesur, Alain Pagani, Didier Stricker
Proceedings of the 18th IEEE ISMAR. IEEE International Symposium on Mixed and Augmented Reality (ISMAR-2019) October 14-18 Beijing China IEEE 2019 .
Details | Link 1
Augmented Reality in Physics education: Motion understanding using an Augmented Airtable
Nareg Minaskan Karabid, Jason Raphael Rambach, Alain Pagani, Didier Stricker
EuroVR (Hrsg.). European Association on Virtual and Augmented Reality. EuroVR (EuroVR-2019) October 23-25 Tallin Estonia Springer 2019 .
Details | Link 1
Image Quality-Aware Deep Networks Ensemble for Efficient Gender Recognition in the Wild
Mohamed Selim, Suraj Sundararajan, Alain Pagani, Didier Stricker
International Conference on Computer Vision Theory and Applications (VISAPP-18), 13th, January 27-29, Funchal, Madeira, Portugal
Details | Link 1
6DoF Object Tracking based on 3D Scans for Augmented Reality Remote Live Support
Jason Raphael Rambach, Alain Pagani, Michael Schneider, Oleksandr Artemenko, Didier Stricker

Details | Link 1 | Link 2
Learning 6DoF Object Poses from Synthetic Single Channel Images
Jason Raphael Rambach, Chengbiao Deng, Alain Pagani, Didier Stricker
IEEE International Symposium on Mixed and Augmented Reality (ISMAR-2018), 17th, October 16-20, München, Germany
Details | Link 1 | Link 2
Universal Web-Based Tracking for Augmented Reality Applications
Yannic Bonenberger, Jason Raphael Rambach, Alain Pagani, Didier Stricker
EuroVR (EuroVR-2018), October 22-23, London, United Kingdom
Details | Link 1
Augmented Things: Enhancing AR Applications leveraging the Internet of Things and Universal 3D Object Tracking
Jason Raphael Rambach, Alain Pagani, Didier Stricker
IEEE Adjunct Proceeding of IEEE International Symposium on Mixed and Augmented Reality (ISMAR-17), October 9-13, Nantes, France
Details | Link 1
Fusion of unsynchronized optical tracker and inertial sensor in EKF framework for in-car Augmented Reality delay reduction
Jason Raphael Rambach, Alain Pagani, Sebastian Lampe, Ruben Reiser, Manthan Pancholi, Didier Stricker
IEEE Adjunct Proceeding of IEEE International Symposium on Mixed and Augmented Reality (ISMAR-17), October 9-13, Nantes, France
Details | Link 1
Sparse-MVRVMs Tree for Fast and Accurate Head Pose Estimation in the Wild
Mohamed Selim, Alain Pagani, Didier Stricker
Proceedings of the International Conference on Computer Analysis of Images and Patterns International Conference on Computer Analysis of Images and Patterns (CAIP-17), August 22-24, Ystad, Sweden
Details | Link 1
Eyes of Things
Noelia Vallez, Jose L. Espinosa-Aranda, Jose M. Rico-Saavedra, Javier Parra-Patino, Oscar Deniz, Alain Pagani, Stephan Krauß, Ruben Reiser, Didier Stricker, David Moloney, Alireza Dehghani, Aubrey Dunne, Dexmont Pena, Martin Waeny, Pedro Santos, Matteo Sorci, Tim Llewellynn, Christian Fedorczak, Thierry Larmoire, Elodie Roche, Marco Herbst, Andre Seirafi, Kasra Seirafi
Proceedings of the IEEE International Conference on Cloud Engineering IEEE International Conference on Cloud Engineering (IC2E-2017)
Details | Link 1
Eyes of Things
Oscar Deniz, Noelia Vallez, Jose L. Espinosa-Aranda, Jose M. Rico-Saavedra, Javier Parra-Patino, Gloria Bueno, David Moloney, Alireza Dehghani, Aubrey Dunne, Alain Pagani, Stephan Krauß, Ruben Reiser, Martin Waeny, Matteo Sorci, Tim Llewellynn, Christian Fedorczak, Thierry Larmoire, Marco Herbst, Andre Seirafi, Kasra Seirafi

Details | Link 1
Sensors for location-based Augmented Reality - the example of Galileo and EGNOS
Alain Pagani, José Henriques, Didier Stricker
International Archives of the Photogrammetry, Remote Sensing and Spatial Information Sciences Congress of the International Society of Photogrammetry and Remote Sensing (ISPRS) (ISPRS-16)
Details | Link 1
Learning to Fuse: A Deep Learning Approach to Visual-Inertial Camera Pose Estimation
Jason Raphael Rambach, Aditya Tewari, Alain Pagani, Didier Stricker
IEEE International Symposium on Mixed and Augmented Reality (ISMAR-2016), September 19-23, Merida, Mexico
Details | Link 1
Feature-augmented Trained Models for 6DOF Object Recognition and Camera Calibration
Kripasindhu Sarkar, Alain Pagani, Didier Stricker
Proceedings of the International Conference on Computer Vision Theory and Applications International Conference on Computer Vision Theory and Applications (VISAPP-16)
Details | Link 1
LARA: A location-based and augmented reality assistive system for underground utilities' networks through GNSS
Efstratios Stylianidis, Elena Valari, Kostas Smagas, Alain Pagani, Jose Henriques, Alejandro Garcia, Elisa Jimeno, Ivan Carillo, Petros Patias, Charalampos Georgiadis, Anastasis Kounoudes, Konstantinos Michail
Proceedings of the International Conference on Virtual System and Multimedia International Conference on Virtual Systems and MultiMedia (VSMM-16)
Details | Link 1
LBS Augmented Reality Assistive Systems for utilities infrastructure management through Galileo and EGNOS
Efstratios Stylianidis, Elena Valari, Kostas Smagas, Alain Pagani, Jose Henriques, Alejandro Garcia, Elisa Jimeno, Ivan Carillo, Petros Patias, Charalampos Georgiadis, Anastasis Kounoudes, Konstantinos Michail
International Archives of the Photogrammetry, Remote Sensing and Spatial Information Sciences Congress of the International Society of Photogrammetry and Remote Sensing (ISPRS) (ISPRS-16)
Details | Link 1
Reality models for efficient registration in Augmented Reality
Alain Pagani

Details
Real-Time Head Pose Estimation Using Multi-Variate RVM on Faces in the Wild
Mohamed Selim, Alain Pagani, Didier Stricker
International Conference on Computer Analysis of Images and Patterns (CAIP-2015), 16th, September 2-4, Valletta, Malta
Details | Link 1 | Link 2
Advancing Physics Learning Through Traversing a Multi-Modal Experimentation Space
Jochen Kuhn, Alexander Nussbaumer, Dietrich Albert, Owen Conlan, Andreas Dengel, Christian Gütl, Dimosthenis Karatzas, Martin Memmel, Alain Pagani, Johanna Pirker, Christina M. Steiner
Workshop Proceedings of the 11th International Conference on Intelligent Environments International Conference on Intelligent Environments (IE-2015)
Details | Link 1 | Link 2
Real-Time Head Pose Estimation Using Multi-Variate RVM on Faces in the Wild
George Azzopardi, Nicolai Petkov (Hrsg.)
Computer Analysis of Images and Patters International Conference on Computer Analysis of Images and Patterns (CAIP-2015), 16th, September 2-4, Valletta, Malta
Details | Link 1 | Link 2
Advancing Physics Learning Through Traversing a Multi-Modal Experimentation Space
(Hrsg.)
Workshop Proceedings of the 11th International Conference on Intelligent Environments International Conference on Intelligent Environments (IE-2015)
Details | Link 1 | Link 2
Reality models for efficient registration in Augmented Reality
(Hrsg.)

Details
A user supported object tracking framework for interactive video production
Christian Bailer, Alain Pagani, Didier Stricker
k.A.; : Journal of Virtual Reality and Broadcasting
Details | Link 1
Consistent Pose Uncertainty Estimation for Spherical Cameras
Bernd Krolla, Christiano Couto Gava, Alain Pagani, Didier Stricker
International Conference in Central Europe on Computer Graphics, Visualization and Computer Vision (WSCG-2014), 22nd, June 2-5, Pilzen, Czech Republic
Details | Link 1 | Link 2
A Superior Tracking Approach: Building a strong Tracker through Fusion
Christian Bailer, Alain Pagani, Didier Stricker
Computer Vision – ECCV 2014 European Conference on Computer Vision (ECCV-14), September 6-12, Zürich, Switzerland
Details | Link 1 | Link 2 | Link 3 | Link 4
A user supported object tracking framework for interactive video production
(Hrsg.)
k.A.; : Journal of Virtual Reality and Broadcasting
Details | Link 1
Consistent Pose Uncertainty Estimation for Spherical Cameras
Vaclav Skala (Hrsg.)
Communication Papers Proceedings of the 22nd International Conference on Computer Graphics, Visualization and Computer Vision (WSCG) International Conference in Central Europe on Computer Graphics, Visualization and Computer Vision (WSCG-2014), 22nd, June 2-5, Pilzen, Czech Republic
Details | Link 1 | Link 2
A Superior Tracking Approach: Building a strong Tracker through Fusion
(Hrsg.)
Computer Vision – ECCV 2014 European Conference on Computer Vision (ECCV-14), September 6-12, Zürich, Switzerland
Details | Link 1 | Link 2 | Link 3 | Link 4
Bildbasierte Messung und Analyse sportlicher Aktivitäten
Alain Pagani, Christian Bailer, Didier Stricker
15. Frühjahrsschule "Informations- und Kommunikationstechnologien in der angewandten Trainingswissenschaft" Frühjahrsschule Informations- und Kommunikationstechnologien in der angewandten Trainingswissenschaft, 15. April 17-18, Leipzig, Germany
Details | Link 1
Robust Guided Matching and Multi-layer Feature Detection Applied to High Resolution Spherical Images
Christiano Couto Gava, Alain Pagani, Bernd Krolla, Didier Stricker
International Conference on Computer Vision Theory and Applications (VISAPP-2013), 8th, February 21-24, Barcelona, Spain
Details | Link 1
Bildbasierte Messung und Analyse sportlicher Aktivitäten
(Hrsg.)
15. Frühjahrsschule "Informations- und Kommunikationstechnologien in der angewandten Trainingswissenschaft" Frühjahrsschule Informations- und Kommunikationstechnologien in der angewandten Trainingswissenschaft, 15. April 17-18, Leipzig, Germany
Details | Link 1
Robust Guided Matching and Multi-layer Feature Detection Applied to High Resolution Spherical Images
(Hrsg.)
International Joint Conference on Computer Vision, Imaging and Computer Graphics Theory and Applications 2013 International Conference on Computer Vision Theory and Applications (VISAPP-2013), 8th, February 21-24, Barcelona, Spain
Details | Link 1
OnEye – Producing and broadcasting generalized interactive videos
Alain Pagani, Christian Bailer, Didier Stricker
2013 NEM Summit - Conderence Proceedings Networked and Electronic Media Summit (NEM Summit-2013), October 28-30, Nantes, France
Details | Link 1
Real-time Modeling and Tracking Manual Workflows from First-Person Vision
Nils Petersen, Alain Pagani, Didier Stricker
Proceedings of the International Symposium on Mixed and Augmented Reality 2013 IEEE International Symposium on Mixed and Augmented Reality (ISMAR-2013), October 1-4, Adelaide, South Australia, Australia
Details | Link 1
A user supported tracking framework for interactive video production
Christian Bailer, Alain Pagani, Didier Stricker
Proceedings of the 10th European Conference on Visual Media Production Conference on Visual Media Production (CVMP-13), 10th, November 6-7, London, United Kingdom
Details | Link 1
Real-time Modeling and Tracking Manual Workflows from First-Person Vision
(Hrsg.)
Proceedings of the International Symposium on Mixed and Augmented Reality 2013 International Symposium on Mixed and Augmented Reality (ISMAR-18), October 1-4, Adelaide, South Australia, Australia
Details | Link 1
OnEye – Producing and broadcasting generalized interactive videos
Roger Torrenti, Nga Tran, Halid Hrasnica (Hrsg.)
2013 NEM Summit - Conderence Proceedings Networked and Electronic Media Summit (NEM Summit-2013), October 28-30, Nantes, France
Details | Link 1
A user supported tracking framework for interactive video production
(Hrsg.)
Proceedings of the 10th European Conference on Visual Media Production Converence on Visual Media Production (CVMP-13), 10th, November 6-7, London, United Kingdom
Details | Link 1
Markerless Camera Pose Estimation - An Overview
Tobias Nöll, Alain Pagani, Didier Stricker
Visualization of Large and Unstructured Data Sets - Applications in Geospatial Planning, Modeling and Engineering International Research Training Group Workshop (IRTG-1131), March 19-21, Bodega Bay, CA, USA
Details | Link 1
Detection and Identification Techniques for Markers Used in Computer Vision
Johannes Köhler, Alain Pagani, Didier Stricker
Visualization of Large and Unstructured Data Sets - Applications in Geospatial Planning, Modeling and Engineering International Research Training Group Workshop (IRTG-1131), March 19-21, Bodega Bay, CA, USA
Details | Link 1
Robust point matching in HDRI through estimation of illumination distribution
Yan Cui, Alain Pagani, Didier Stricker
Proceedings of the 33rd Annual Pattern Recognition Symposium of the German Association for Pattern Recognition (DAGM) 2011 Annual Symposium of the German Association for Pattern Recognition (DAGM-2011), 33rd, August 30 - September 2, Frankfurt am Main, Germany
Details
Detection and Identification Techniques for Markers Used in Computer Vision
Johannes Köhler, Alain Pagani, Didier Stricker
Visualization of Large and Unstructured Data Sets - Applications in Geospatial Planning, Modeling and Engineering International Research Training Group Workshop (IRTG-1131), March 19-21, Bodega Bay, CA, USA
Details | Link 1
Robust point matching in HDRI through estimation of illumination distribution
(Hrsg.)
Proceedings of the 33rd Annual Pattern Recognition Symposium of the German Association for Pattern Recognition (DAGM) 2011 Annual Symposium of the German Association for Pattern Recognition (DAGM-2011), 33rd, August 30 - September 2, Frankfurt am Main, Germany
Details | Link 1
Dense 3D Point Cloud Generation from Multiple High-Resolution Spherical Images
Alain Pagani, Christiano Couto Gava, Yan Cui, Bernd Krolla, Jean-Marc Hengen, Didier Stricker
International Symposium on Virtual Reality, Archaeology and Cultural Heritage (VAST-2011), 12th, October 19-21, Prato, Italy
Details | Link 1
Structure from Motion using full spherical panoramic cameras
Alain Pagani, Didier Stricker
Proceedings of the 11th Workshop on Omnidirectional Vision, Camera Networks and Non-classical Cameras Workshop on Omnidirectional Vision, Camera Networks and Non-classical Cameras (OMNIVIS-2011), November 6-13, Barcelona, Spain
Details | Link 1
Circular markers for camera pose estimation
Alain Pagani, Johannes Köhler, Didier Stricker
Proceedings of the 12th International Workshop on Image Analysis for Multimedia Interactive Services (WIAMIS 2011) International Workshop on Image Analysis for Multimedia Interactive Services (WIAMIS-2011), 12th, April 13-15, Delft, Netherlands
Details | Link 1
Circular markers for camera pose estimation
(Hrsg.)
Proceedings of the 12th International Workshop on Image Analysis for Multimedia Interactive Services (WIAMIS 2011) International Workshop on Image Analysis for Multimedia Interactive Services (WIAMIS-2011), 12th, April 13-15, Delft, Netherlands
Details | Link 1
Dense 3D Point Cloud Generation from Multiple High-Resolution Spherical Images
F. Niccolucci, M. Dellepiane (Hrsg.)
12th International Symposium on Virtual Reality, Archeology, and Cultural Heritage International Symposium on Virtual Reality, Archaeology and Cultural Heritage (VAST-2011), 12th, October 19-21, Prato, Italy
Details | Link 1
Structure from Motion using full spherical panoramic cameras
(Hrsg.)
Proceedings of the 11th Workshop on Omnidirectional Vision, Camera Networks and Non-classical Cameras Workshop on Omnidirectional Vision, Camera Networks and Non-classical Cameras (OMNIVIS-2011), November 6-13, Barcelona, Spain
Details | Link 1
Markerless Camera Pose Estimation - An Overview
Tobias Nöll, Alain Pagani, Didier Stricker
Visualization of Large and Unstructured Data Sets - Applications in Geospatial Planning, Modeling and Engineering International Research Training Group Workshop (IRTG-1131), March 19-21, Bodega Bay, CA, USA
Details | Link 1
SIFT in perception-based color space International Conference on Image Processing (ICIP-2010), September 26-29, Hong Kong
Yan Cui, Alain Pagani, Didier Stricker
International Conference on Image Processing IEEE International Conference on Image Processing (ICIP-2010), September 26-29, Hong Kong
Details
Robust Detection and Identification of Partially Occluded Circular Markers International Conference on Computer Vision Theory and Applications (VISAPP), located at VISIGRAPP, May 17-21, Angers, France
Johannes Köhler, Alain Pagani, Didier Stricker
International Conference on Computer Vision Theory and Applications International Conference on Computer Vision Theory and Applications (VISAPP), located at VISIGRAPP, May 17-21, Angers, France
Details | Link 1
Real-time Camera Pose Estimation using Correspondences with High Outlier Ratios - Solving the Perspective n-Point Problem using Prior Probability
Tobias Nöll, Alain Pagani, Didier Stricker
VISAPP 2010 - Proceedings of the Fifth International Conference on Computer Vision Theory and Applications, Angers, France, May 17-21, 2010 - Volume 1 International Conference on Computer Vision Theory and Applications (VISAPP-2010), located at VISIGRAPP 2010, May 17-21, Angers, France
Details | Link 1
SIFT in perception-based color space International Conference on Image Processing (ICIP-2010), September 26-29, Hong Kong
Yan Cui, Alain Pagani, Didier Stricker
International Conference on Image Processing IEEE International Conference on Image Processing (ICIP-2010), September 26-29, Hong Kong
Details
Real-time Camera Pose Estimation using Correspondences with High Outlier Ratios - Solving the Perspective n-Point Problem using Prior Probability
Tobias Nöll, Alain Pagani, Didier Stricker
VISAPP 2010 - Proceedings of the Fifth International Conference on Computer Vision Theory and Applications, Angers, France, May 17-21, 2010 - Volume 1 International Conference on Computer Vision Theory and Applications (VISAPP-2010), located at VISIGRAPP 2010, May 17-21, Angers, France
Details | Link 1
Robust Detection and Identification of Partially Occluded Circular Markers International Conference on Computer Vision Theory and Applications (VISAPP), located at VISIGRAPP, May 17-21, Angers, France
Johannes Köhler, Alain Pagani, Didier Stricker
International Conference on Computer Vision Theory and Applications International Conference on Computer Vision Theory and Applications (VISAPP), located at VISIGRAPP, May 17-21, Angers, France
Details | Link 1
Canaux projectifs intégraux pour la mise en correspondance de régions
Alain Pagani, Didier Stricker
Actes des Journées ORASIS Congrès des jeunes chercheurs en vision par ordinateur (ORASIS-09), June 8-12, Trégastel, France
Details | Link 1 | Link 2
In-Situ Visualization for Cultural Heritage Sites using Novel Augmented Reality Technologies International Conference on Graphic Archeology and Cultural Heritage - Arqueológica, June 17-20, Sevilla, Spain
Didier Stricker, Alain Pagani, Michael Zoellner

Details | Link 1
Learning Local Patch Orientation with a Cascade of Sparse Regressors British Machine Vision Conference (BMVC), September 7-10, London, United Kingdom
Alain Pagani, Didier Stricker
British Machine Vision Conference British Machine Vision Conference (BMVC-09), September 7-10, London, United Kingdom
Details | Link 1
In-Situ Visualization for Cultural Heritage Sites using Novel Augmented Reality Technologies International Conference on Graphic Archeology and Cultural Heritage - Arqueológica, June 17-20, Sevilla, Spain
Didier Stricker, Alain Pagani, Michael Zoellner

Details | Link 1
Canaux projectifs intégraux pour la mise en correspondance de régions
Alain Pagani, Didier Stricker
Actes des Journées ORASIS Congrès des jeunes chercheurs en vision par ordinateur (ORASIS-09), June 8-12, Trégastel, France
Details | Link 1 | Link 2
Integral P-Channels for fast and robust region matching International Conference on Image Processing (ICIP-09), November 7, Cairo, Egypt
Alain Pagani, Didier Stricker, Michael Felsberg
International Conference on Image Processing IEEE International Conference on Image Processing (ICIP-09), November 7, Cairo, Egypt
Details | Link 1
Learning Local Patch Orientation with a Cascade of Sparse Regressors British Machine Vision Conference (BMVC), September 7-10, London, United Kingdom
Alain Pagani, Didier Stricker
British Machine Vision Conference British Machine Vision Conference (BMVC-09), September 7-10, London, United Kingdom
Details | Link 1
Reality Filtering: A Visual Time Machine in Augmented Reality
Michael Zoellner, Alain Pagani, Yulian Pastarmov, Harald Wuest, Didier Stricker
Proceedings of the 9th International Symposium on Virtual Reality, Archaeology and Cultural Heritage International Symposium on Virtual Reality, Archaeology and Cultural Heritage (VAST-08), December 2-5, Braga, Portugal
Details | Link 1
Reality Filtering: A Visual Time Machine in Augmented Reality
Michael Zoellner, Alain Pagani, Yulian Pastarmov, Harald Wuest, Didier Stricker
Proceedings of the 9th International Symposium on Virtual Reality, Archaeology and Cultural Heritage International Symposium on Virtual Reality, Archaeology and Cultural Heritage (VAST-08), December 2-5, Braga, Portugal
Details | Link 1
Spatially Uniform Colors for Projectors and Tiled Displays
Alain Pagani, Didier Stricker

Details | Link 1
Feature Management for Efficient Camera Tracking
Harald Wuest, Alain Pagani, Didier Stricker
Asian Conference on Computer Vision 8 Asian Conference on Computer Vision (ACCV-2007), located at 8th, November 18-22, Tokyo, Japan
Details | Link 1
Feature Management for Efficient Camera Tracking
Harald Wuest, Alain Pagani, Didier Stricker
Asian Conference on Computer Vision 8 Asian Conference on Computer Vision (ACCV-2007), located at 8th, November 18-22, Tokyo, Japan
Details | Link 1
Spatially Uniform Colors for Projectors and Tiled Displays
Alain Pagani, Didier Stricker

Details | Link 1