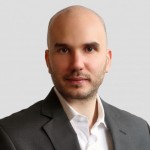 Dr. Jason Raphael Rambach
| | |
| --- | --- |
| E-Mail: | jason_raphael.rambach@dfki.de |
| Position: | Team Leader |
| Phone: | +49 631 20575-3740 |
Jason Rambach received his Diploma in Computer Engineering degree from the University of Patras, Greece in 2012 and his M.Sc. in Information and Communication Engineering from the Technical University of Darmstadt, Germany in 2014. He has been at DFKI Augmented Vision in Kaiserslautern since 2015.
Currently, he leads the team "Spatial Sensing and Machine Perception" at the DFKI Augmented Vision group. The team of approx. 10 researchers is focusing on depth sensing devices and scene understanding using Machine Learning. The team is participating in several EU and nationally funded research projects such as VIZTA, AuRoRas and Innoprom.
His research interests include SLAM and Semantic Scene Understanding, Object Detection and Tracking, Augmented Reality and Machine Learning. He has several publications in leading Computer Vision and Augmented Reality conferences and a best paper award from the IEEE International Symposium on Mixed and Augmented Reality (ISMAR) 2017. He is a reviewer for several scientific journals and conferences (IEEE ISMAR, IEEE VR, MDPI Sensors).
15 Publications by Dr. Jason Raphael Rambach: