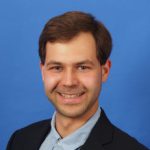 Vladislav Golyanik
| | |
| --- | --- |
| E-Mail: | vladislav.golyanik@dfki.de |
| Position: | Researcher |
| Phone: | +49 631 20575-1828 |
Vladislav Golyanik has studied Computer Science at the University of Ulm, Germany, and at the Norwegian University of Science and Technology (NTNU) in Trondheim, Norway, focused on image processing, algorithmics as well as parallel programming with emphasis on embedded and medical applications. He holds M. Sc. from University of Ulm since 2013.
After having accomplished the Master Thesis with the title "2D image enhancement with 3D spatial information" at Daimler AG, where he has implemented the prototype of the real-time capable framework for monocular depth cues enhancement for the next generation rear-view camera systems of motorcars, Vladislav has joined the Augmented Vision Group at DFKI GmbH in November 2013 as a researcher and has been mainly involved in the projects Density and AlterEgo.
His main research interests include 3D/4D reconstruction of non-rigid bodies and surfaces from monocular videostreams, along with efficient and heterogeneous implementations for computer vision tasks.
18 Publications by Vladislav Golyanik: