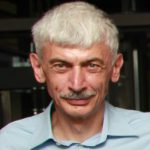 Dr. Bruno Mirbach
| | |
| --- | --- |
| E-Mail: | Bruno_Walter.Mirbach@dfki.uni-kl.de |
| Position: | Senior Researcher |
| Phone: | +49 631 20575 3511 |
Bruno Mirbach studied Physics, Mathematics and Computer Science and the University of Kaiserslautern/Germany, where he also received his Dr. rer. nat. degree in theoretical physics in 1996. He was Postdoctoral Researcher with the Center for Nonlinear and Complex Systems, Como/Italy, with the Max-Planck-Institute of the Physics of Complex Systems, Dresden/Germany, and with the University of Ulm/Germany with research focus on non-linear dynamics and quantum chaos.
in 1999 he joined automotive industry working on the applied research and development of intelligent optical sensor systems for environment perception and occupant monitoring.
At two automotive suppliers he has been leading teams dedicated to the research and development of computer vision and machine learning algorithms.
with numerous publications and patents in 3D vision, 2D/3D sensor fusion, and machine learning.
Since 2019 he is in part time senior researcher at the German Research Center for Artificial Intelligence (DFKI) in Kaiserslautern, Germany.
In the Augmented Vision department, he is mainly contributing to European research projects (Horizon Europe Program) as well as industry projects.
11 Publications by Dr. Bruno Mirbach: