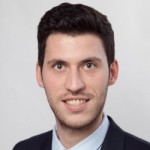 Dr. Oliver Wasenmüller
| | |
| --- | --- |
| E-Mail: | oliver.wasenmueller@dfki.de |
| Position: | Team Leader |
| Phone: | +49 631 20575-3580 |

Dr.-Ing. Oliver Wasenmüller is team leader for "Machine Vision and Autonomous Vehicles" in the Augmented Vision department of DFKI. His current projects involve cutting-edge technologies in the area of Computer Vision, Machine Learning, Autonomous Driving and Industrie 4.0. The goal of his research is to improve the cognitive skills of autonomous vehicles (depth/flow estimation, localization, semantic segmentation, etc.) and production systems (e.g. discrepancy check, Track&Trace, pose estimation). He founded the research team and built it from scratch with intense third party fund acquisitions. His entire projects are in cooperation with national and international start-ups, SMEs or major enterprises.
Besides his R&D activities, Oliver Wasenmüller is lecturer at HS Mannheim for "Computer Vision" as well as coordinator of the Projects/Seminars in "3D Computer Vision" and "2D Image Processing" at TU Kaiserslautern. He is reviewer of different scientific conferences in the area of Computer Vision and Robotics. In addition, he is in demand as a speaker at many conferences, lectures and panel discussions.
Oliver Wasenmüller received his Bachelor (B.Sc.) and Master (M.Sc.) degree in Computer Science from the University of Kaiserslautern, Germany. He finished his degree with a research stay and a Master Thesis at Sony's European Technology Center (EuTEC). In his PhD thesis he researched on different algorithms for Time-of-Flight (ToF) RGB-D cameras in industrial application scenarios.

24 Publications by Dr. Oliver Wasenmüller:
Dense Scene Flow from Stereo Disparity and Optical FlowDense
René Schuster, Oliver Wasenmüller, Didier Stricker
Computer Science in Cars Symposium ACM Chapters Computer Science in Cars Symposium (CSCS-2018), September 13-14, Munich, Germany
Details | Link 1
SceneFlowFields: Dense Interpolation of Sparse Scene Flow Correspondences
René Schuster, Oliver Wasenmüller, Georg Kuschk, Christian Bailer, Didier Stricker
IEEE Winter Conference on Applications of Computer Vision (WACV-18), March 12-14, Lake Tahoe, NV/CA, USA
Details | Link 1
ScaleNet: Scale Invariant Network for Semantic Segmentation in Urban Driving Scenes
Mohammad Dawud Ansari, Stephan Krauß, Oliver Wasenmüller, Didier Stricker
International Conference on Computer Vision Theory and Applications (VISAPP-18), 13th, January 27-29, Funchal, Madeira, Portugal
Details | Link 1 | Link 2
Combining Stereo Disparity and Optical Flow for Basic Scene Flow
René Schuster, Christian Bailer, Oliver Wasenmüller, Didier Stricker
Commercial Vehicle Technology Symposium (CVT-18), March 13-15, Kaiserslautern, Germany
Details | Link 1
Accelerated DNA-SLAM for RGB-D images
Mina Ameli, Oliver Wasenmüller, Mohammad Reza Soheili, Jamshid Shanbehzadeh, Didier Stricker
ACM International Conference on Image and Graphics Processing (ICIGP-2018), February 24-26, Hong Kong, China
Details | Link 1
FlowFields++: Accurate Optical Flow Correspondences Meet Robust Interpolation
René Schuster, Christian Bailer, Oliver Wasenmüller, Didier Stricker
IEEE International Conference on Image Processing
Details | Link 1
Dynamic Risk Assessment for Vehicles of Higher Automation Levels by Deep Learning
Patrik Feth, Mohammed Naveed Akram, René Schuster, Oliver Wasenmüller
International Workshop on Artificial Intelligence Safety Engineering (WAISE-2018), located at SAFECOMP 2018, September 18, Västerås, Sweden
Details | Link 1
Automated Scene Flow Data Generation for Training and Verification
Oliver Wasenmüller, René Schuster, Didier Stricker, Karl Leiss, Jürger Pfister, Oleksandra Ganus, Julian Tatsch, Artem Savkin, Nikolas Brasch
ACM Computer Science in Cars Symposium (CSCS) ACM Computer Science in Cars Symposium (CSCS-2018), Munich, Germany
Details | Link 1
Towards Non-Rigid Reconstruction - How to adapt rigid RGB-D reconstruction to non-rigid movements?
Oliver Wasenmüller, Benjamin Schenkenberger, Didier Stricker
International Conference on Computer Vision Theory and Applications International Conference on Computer Vision Theory and Applications (VISAPP-17), February 27 - March 1, Porto, Portugal
Details | Link 1
Virtuelle Techniken und Semantic-Web
André Antakli, Pablo Alvarado Moya, Beat Brüderlin, Ulrich Canzler, Holger Dammertz, Volker Enderlein, Jürgen Grüninger, Andreas Harth, Hilko Hoffmann, Eduard Jundt, Peter Keitler, Felix Leif Keppmann, Roland Krzikalla, Sebastian Lampe, Alexander Löffler, Julian Meder, Michael Otto, Frieder Pankratz, Sebastian Pfützner, Matthias Roth, Richard Sauerbier, Werner Schreiber, Roland Stechow, Johannes Tümler, Christian Vogelgesang, Oliver Wasenmüller, Andreas Weinmann, Jochen Willneff, Hans-Joachim Wirsching, Ingo Zinnikus, Konrad Zürl, René Schubotz
Werner Schreiber; Konrad Zürl; Peter Zimmermann: Web-basierte Anwendungen Virtueller Techniken
Details
Soll/Ist-Vergleich
Oliver Adams, Ulrich Bockholt, Axel Hildebrand, Leiv Jonescheit, Roland Krzikalla, Manuel Olbrich, Frieder Pankratz, Sebastian Pfützner, Matthias Roth, Fabian Scheer, Björn Schwerdtfeger, Ingo Staack, Oliver Wasenmüller
Werner Schreiber; Konrad Zürl; Peter Zimmermann: Web-basierte Anwendungen Virtueller Techniken
Details
Towards Flow Estimation in Automotive Scenarios
René Schuster, Oliver Wasenmüller, Georg Kuschk, Christian Bailer, Didier Stricker
Computer Science in Cars Symposium ACM Chapters Computer Science in Cars Symposium (CSCS-17), Computer Science in Cars Symposium 2017, July 6, Munich, Germany
Details | Link 1
Ein Bildgeber und Distanzsensor für Automotive und Industrie
Oliver Wasenmüller, Didier Stricker

Details | Link 1
Time-Of-Flight Sensor Depth Enhancement for Automotive Exhaust Gas
Tomonari Yoshida, Oliver Wasenmüller, Didier Stricker
2017 IEEE International Conference on Image Processing - Proceedings IEEE International Conference on Image Processing (ICIP-2017), September 17-20, Beijing, China
Details | Link 1
Towards an Accurate RGB-D Benchmark, Mapping and Odometry as well as their Applications
Oliver Wasenmüller

Details
CoRBS: Comprehensive RGB-D Benchmark for SLAM using Kinect v2
Oliver Wasenmüller, Marcel Meyer, Didier Stricker
IEEE Winter Conference on Applications of Computer Vision (WACV-2016), March 7-9, Lake Placid, NY, USA
Details | Link 1 | Link 2
Augmented Reality 3D Discrepancy Check in Industrial Applications
Oliver Wasenmüller, Marcel Meyer, Didier Stricker
Proceedings of the 2016 IEEE International Symposium on Mixed and Augmented Reality IEEE International Symposium on Mixed and Augmented Reality (ISMAR-2016), September 19-23, Merida, Mexico
Details | Link 1
DNA-SLAM: Dense Noise Aware SLAM for ToF RGB-D Cameras
Oliver Wasenmüller, Mohammad Dawud Ansari, Didier Stricker
Asian Conference on Computer Vision Workshop Asian Conference on Computer Vision Workshop (ACCV workshop-16), Taipeh, Taiwan, Province of China
Details | Link 1
Comparison of Kinect v1 and v2 Depth Images in Terms of Accuracy and Precision
Oliver Wasenmüller, Didier Stricker
Asian Conference on Computer Vision Workshop Asian Conference on Computer Vision Workshop (ACCV workshop-16), Taipeh, Taiwan, Province of China
Details | Link 1
Combined Bilateral Filter for Enhanced Real-Time Upsampling of Depth Images
Oliver Wasenmüller, Gabriele Bleser, Didier Stricker
Proceedings of the 10th International Conference on Computer Vision Theory and Applications International Conference on Computer Vision Theory and Applications (VISAPP-15), 10th, March 11-14, Berlin, Germany
Details | Link 1
Joint Bilateral Mesh Denoising using Color Information and Local Anti-Shrinking
Oliver Wasenmüller, Gabriele Bleser, Didier Stricker
Proceedings of the International Conference on Computer Graphics, Visualization and Computer Vision
Details | Link 1
Precise and Automatic Anthropometric Measurement Extraction using Template Registration
Oliver Wasenmüller, Jan C. Peters, Vladislav Golyanik, Didier Stricker
Proceedings of the 6th International Conference on 3D Body Scanning Technologies International Conference on 3D Body Scanning Technologies (3DBST-2015), October 27-28, Lugano, Switzerland
Details | Link 1
Correspondence Chaining for Enhanced Dense 3D Reconstruction
Oliver Wasenmüller, Bernd Krolla, Francesco Michielin, Didier Stricker
Communication Papers Proceedings of the International Conference on Computer Graphics, Visualization and Computer Vision (WSCG) International Conference in Central Europe on Computer Graphics, Visualization and Computer Vision (WSCG-22)
Details | Link 1
Enhancing Dense 3D Models by Multi-View Triangulation and Subsequent Illumination Estimation
Oliver Wasenmüller

Details