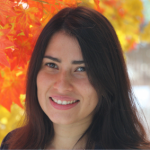 Jilliam Maria Diaz Barros
| | |
| --- | --- |
| E-Mail: | jilliam_maria.diaz_barros@dfki.de |
| Position: | Researcher |
| Phone: | +49 631 20575-3650 |
Jilliam Díaz completed her Bachelor degree in Electronics Engineering in 2010 at Universidad del Norte, Colombia, with a dissertation in coordination mechanisms in multi-agent systems for target location. She also participated at the Young Researcher program of the Administrative Department of Science, Technology and Innovation -Colciencias- in Colombia, in a project related to intelligent classification of patients during the postoperative period, using neural networks.
She received her Master degree in Computer Vision at the University of Burgundy, France. Her thesis was related to real-time 3D human pose estimation from point clouds and was done at the Laboratoire Electronique, Informatique et Image -Le2i- in collaboration with the Interdisciplinary Centre for Security, Reliability and Trust -SnT-, of the University of Luxembourg.
Jilliam is currently a PhD Research Trainee at the Augmented Vision group at DFKI.
Her main research interests are in the areas of computer vision and machine learning.
6 Publications by Jilliam Maria Diaz Barros: