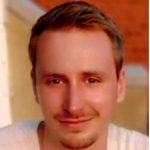 Torben Fetzer
| | |
| --- | --- |
| E-Mail: | torben.fetzer@dfki.de |
| Position: | Researcher |
| Phone: | +49 631 20575-3660 |
Torben Fetzer received his bachelor's degree in mathematics in 2014 and his master's degree in industrial mathematics in 2016 from the University of Kaiserslautern.
During his studies, he specialized in image processing and data analysis.
From 2016, he worked as a research assistant in the Augmented Vision goup at DFKI in the area of Nonrigid Structure from Motion.
Since 2017, he has been working in the department as a researcher and PhD student with a focus on 3D reconstruction, auto-calibration and optical flow estimation.
9 Publications by Torben Fetzer: