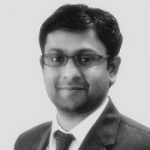 Pramod Murthy
| | |
| --- | --- |
| E-Mail: | pramod.murthy@dfki.de |
| Position: | Researcher |
| Phone: | +49 631 20575-5097 |
Pramod Murthy received his Masters from TU Kaiserslautern, Germany.  He completed Masters thesis titled Spatio-Temporal Convolutional Neural Network based Human Pose estimation in May 2016. Prior to pursuing masters, he professionally worked on various mobile application platforms for over 5 years.
His research interests are Computer Vision, Natural Language Processing and machine learning.
In the Augmented Vision group, he currently focuses on deep neural network architectures for human motion capture (tracking) in 2D / 3D using monocular camera images.
Please visit my website for more information.
3 Publications by Pramod Murthy:
Magnetometer Robust Deep Human Pose Regression With Uncertainty Prediction Using Sparse Body Worn Magnetic Inertial Measurement Units
Hammad Tanveer Butt, Bertram Taetz, Mathias Musahl, Maria Alejandra Sanchez Marin, Pramod Murthy, Didier Stricker
IEEE Access (IEEE) 9 Seiten 36657-36673 IEEE 2/2021 .
Details | Link 1 | Link 2
Fully Automatic Multi-person Human Motion Capture for VR Applications
Ahmed Elhayek, Onorina Kovalenko, Pramod Murthy, Muhammad Jameel Nawaz Malik, Didier Stricker
EuroVR (EuroVR-2018), October 22-23, London, United Kingdom
Details | Link 1
3D Human Pose Tracking inside Car using Single RGB Spherical Camera
Pramod Murthy, Onorina Kovalenko, Ahmed Elhayek, Christiano Couto Gava, Didier Stricker
ACM Chapters Computer Science in Cars Symposium (CSCS-17), July 6, Munich, Germany
Details | Link 1