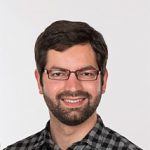 Dr. René Schuster
| | |
| --- | --- |
| E-Mail: | rene.schuster@dfki.de |
| Position: | Senior Researcher |
| Phone: | +49 631 20575-3605 |
René Schuster received a master degree in Computational Engineering from the Technical University of Darmstadt, where he was student assistant at the Visual Inference Group under Prof. Stefan Roth.
His master thesis about 3D vehicle detection based on motion and geometry was completed at the Robert Bosch GmbH.
In 2017 he joined the department Augmented Vision (AV) of the German Research Center for Artifical Intelligence (DFKI) under Prof. Didier Stricker. In 2022, he completed his PhD in the field of 3D motion estimation for automotive applications.
Since 2020, he leads the team Automotive Scene Understanding (ASU) that focusses on a variety of visual perception tasks for assisted and automated driving. A special emphasis of the team's research is on (multi-modal, heterogeneous) sensor fusion for increased robustness, compact networks which exploit domain knowledge, and data-efficient learning.
Next to his research activities, René is deeply committed to teaching. He is organzing the projects and seminars on "3D Computer Vision", "2D Image Processing", and "Computer Vision and Deep Learning", and is lecturer for "Advanced Topics in Computer Vision and Deep Learning" at the RPTU in Kaiserslautern. Additionally, René is reviewer for major conferences in the fields of Computer Vision, Pattern Recognition, Robotics, and Automotive.
28 Publications by Dr. René Schuster: