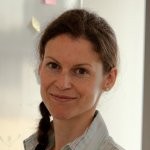 Dr. Gabriele Bleser
| | |
| --- | --- |
| E-Mail: | gabriele.bleser@dfki.de |
| Position: | Senior Researcher |
| Phone: | +49 631 205-3327 |
Gabriele Bleser joined the Department Augmented Vision of the German Research Center for Artificial Intelligence (DFKI) in Kaiserslautern as researcher in September 2008. Her academic career started in 2004, when she finished her studies of Computational Visualistics with a diploma thesis on the topic of real-time markerless camera tracking in the Department Virtual and Augmented Reality at Fraunhofer Institute for Computer Graphics in Darmstadt. She worked there as research associate until 2008 and moved with the head of the group, Prof. Dr. Didier Stricker, to start the new Department at DFKI. In March 2009 she finished her Ph.D. (Towards Visual-Inertial SLAM for Mobile Augmented Reality) at the Technical University Kaiserslautern. From 2013 to 2014, she held the position of the deputy director of the Augmented Vision Department at DFKI. Since November 2014, she leads the research group wearHEALTH at the Technical University of Kaiserslautern (Department Computer Science).
Originally working in the field of computer vision and image processing for Augmented Reality, her research interests shifted towards sensor fusion (especially visual-inertial) while working in the European project MATRIS (Markerless real-time Tracking for Augmented Reality Image Synthesis) and then extended towards motion capture and user activity monitoring while technically coordinating the European research projects PAMAP (Physical Activity Monitoring for Aging People) and COGNITO (Cognitive Workflow Capturing and Rendering with On-Body Sensor-Networks). Since 2004, she continuously participated to research projects in the above mentioned areas, such as the European projects AlterEgo and EASY-IMP, the latter of which she coordinated until 2014.
Her new research group wearHEALTH at the Technical University of Kaiserslautern focuses on social informatics and personalised, mobile health, with special focus on physical activity monitoring and promotion based on wearables.
Besides her R&D activities, Gabriele Bleser is also teaching sensor fusion as a docent at the Technical University Kaiserslautern. She is reviewer of different journals and conferences in the area of Computer Vision, Biomechanics, Wearable Computing and Robotics.
37 Publications by Dr. Gabriele Bleser: