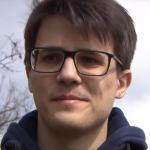 David Michael Fürst
| | |
| --- | --- |
| E-Mail: | David_Michael.Fuerst@dfki.de |
| Position: | Researcher |
| Phone: | +49 631 20575-1073 |
Michael Fürst received a master degree in Computer Science at Karlsruhe Institute of Technology (KIT).
His bachelor thesis on Graph-SLAM in urban canyons and the master thesis on direct 3D car detection from monocular images using CNNs were done at Forschumszentrum Informatik (FZI).
In 2019 he joined the Augmented Vision Department of the German Research Center for Artificial Intelligence where he is currently focussing his research on Pedestrian Detection and Pose Estimation algorithms for automotive applications.