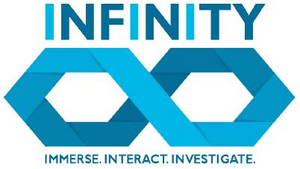 Artificial Intelligence and advanced big Data Analytics for Law Enforcement Agencies
The ambition of the project INFINITY is to become a flagship project against society's most pressing cybercriminal, terrorist and hybrid threats. Synthesising the latest innovations in virtual and augmented reality, artificial intelligence and machine learning with big data and visual analytics, Infinity will deliver an integrated solution that aims to revolutionise data-driven investigations. Bringing together a strong representation from national and supranational agencies with an end-user-driven design, it will directly address the core needs of contemporary law enforcement. Specifically, it will equip investigators and analysts with cuttingedge tools to acquire, process, visualise and act upon the enormous quantities of data they are faced with every day. Bolstered by cognitive research, automated systems and instinctive interfaces and controls, Infinity will be designed and developed to maximise the potential of individual investigators. On a collective level, the immersive collaborative environment offered by Infinity will enable co-located and remote cooperation with law enforcing agencies in ways that have not yet been realised. This end-to-end system for operations with law enforcing agencies will cover the full investigative cycle, including generating reports for decisionmakers and admissible evidence to demonstrate to juries and judges. Ultimately, the solutions offered by Infinity will propel law enforcing agencies ahead of traditional and evolving complex, hybrid and transnational threats and protect the societies they serve.
Das Ziel des Projekts INFINITY ist es, ein Vorzeigeprojekt gegen die drängendsten cyberkriminellen, terroristischen und hybriden Bedrohungen der Gesellschaft zu werden. Durch die Synthese der neuesten Innovationen in den Bereichen virtuelle und erweiterte Realität, künstliche Intelligenz und maschinelles Lernen mit großen Datenmengen und visueller Analyse wird Infinity eine integrierte Lösung liefern, die darauf abzielt, datengesteuerte Untersuchungen zu revolutionieren. Durch die Zusammenführung einer starken Vertretung von nationalen und supranationalen Behörden mit einem endbenutzerorientierten Design wird sie direkt auf die Kernbedürfnisse der heutigen Strafverfolgung eingehen. Insbesondere wird es Ermittler und Analysten mit hochmodernen Werkzeugen ausstatten, um die enormen Datenmengen, mit denen sie täglich konfrontiert sind, zu erfassen, zu verarbeiten, zu visualisieren und zu bearbeiten. Unterstützt durch kognitive Forschung, automatisierte Systeme und instinktive Schnittstellen und Kontrollen wird Infinity so konzipiert und entwickelt, dass das Potenzial einzelner Ermittler maximiert wird. Auf kollektiver Ebene wird die immersive kollaborative Umgebung, die Infinity bietet, eine Zusammenarbeit mit den Strafverfolgungsbehörden an einem gemeinsamen Standort und aus der Ferne auf eine Weise ermöglichen, die bisher noch nicht realisiert wurde. Dieses End-to-End-System für Operationen mit Strafverfolgungsbehörden wird den gesamten Ermittlungszyklus abdecken, einschließlich der Erstellung von Berichten für Entscheidungsträger und zulässiger Beweise, die den Geschworenen und Richtern vorgelegt werden können. Letztlich werden die von Infinity angebotenen Lösungen die Strafverfolgungsbehörden den traditionellen und sich entwickelnden komplexen, hybriden und transnationalen Bedrohungen einen Schritt voraus bringen und die Gesellschaften, denen sie dienen, schützen.
Partners
Universität Wien (Universität Wien)
ASOCIACION CENTRO DE TECHNOLOGIAS DE INTERACCION VISUAL Y COMUNICACIONES-VICOMTECH (FUNDACION CENTRO DE TECHNOLOGIAS DE INTERACCION VISUAL Y COMUNICACIONES-VICOMTECH)
Sheffield Hallam University (Geschäftsleitung)
EUROPEAN UNION AGENCY FOR LAW ENFORCEMENT COOPERATION (EUROPOL)
Politiezone Van Antwerpen
Police Service of Northern Ireland
Ministerio da Justica Lissabon
Manzavision
Kineviz Inc
Hellenic Police
HOCHSCHULE FUR DEN ÖFFENTLICHEN DIENST IN BAYERN
Ministerio del Interior Espana
Universidad Politecnica De Madrid
Kentro Meleton Asfaleias
ENGINEERING – INGEGNERIA INFORMATICA SPA (ENGINEERING – INGEGNERIA INFORMATICA SPA)
Centre National De La Recherche Scientifique (Centre National De La Recherche Scientifique)
Ethniko Kentro Erevnas Kai Technologikis Anaptyxis
Teknologian tutkimuskeskus VTT oy
Airbus Defence and Space GmbH
Contact