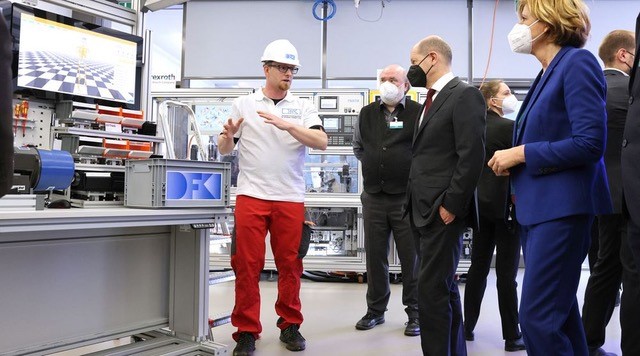 On March 18th, 2022, we had the great privilege to demonstrate the BIONIC system to the German chancelor Olaf Scholz during his visit to DFKI GmbH in Kaiserslautern. Dr. Markus Miezal was wearing the BIONIC system on a workstation and presented the real-time ergonomic assessment.
The system consists of work pants and a shirt, which carry inertial measurement units similar to those in a smartphone. Using sensor fusion methods, the body posture of the worker can be extracted to monitor the health of the worker and allows to give feedback, either direct, if the working posture is hazardous or via statistics gathered throughout a workday. Since privacy is a main topic of this project, the data is processed on a small wearable device, similar to a smartphone, so that the personal data literally stays on the person in the first place. Under premise of the workers approval, the data might be shared with his doctor, so that he can make recommendations on exercises according to this phyiscal stress during work. In a further step, the worker might even donate anonymized data to his employer, which allows him to analyze the general ergonomy of the workstation itself.
The chancellor was interested on how long and when to wear the system. Indeed, the system is not meant for every-day use but can be beneficial during training on a new workstation, where new work processes are learnt in an ergonomically sound way. Meanwhile the project has finished, however, spin-offs, e.g. the sci-track GmbH, will continue to provide the technology to the market.
For more information, please check out the following links:
DFKI – BIONIC Video on YouTube (3 minutes, 8 seconds)
DFKI + TUK – Tech Demonstrator (1 minute, 47 seconds)
DFKI Press Release: BUNDESKANZLER OLAF SCHOLZ BESUCHT DAS DFKI