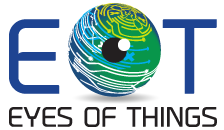 Contact person: Dr.-Ing. Alain Pagani
Funding by: EU
Grant agreement no.: 643924
Funding programm: H2020
Begin: 01.01.2015
End: 30.06.2018
The aim of the European Eyes of Things it to build a generic Vision device for the Internet of Things.
The device will include a miniature camera and a specific Vision Processing Unit in order to perform all necessary processing tasks directly on the device without the need of transferring the entire images to a distant server. The envisioned applications will enable smart systems to perceive their environment longer and more interactively.
The technology will be demonstrated with applications such as Augmented Reality, Wearable Computing and Ambient Assisted Living.