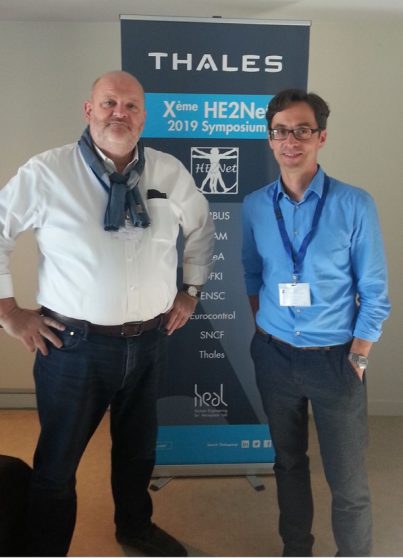 On September 12th, 2019, Dr. Alain Pagani was invited to give a talk on the subject "User monitoring, Human-machine collaboration and Artificial Intelligence" at the 10th HE2Net Symposium.
The HE2Net Symposium, jointly organized by THALES and the Ecole Nationale Supérieure de Cognitique (ENSC) is the annual conference of the Human Engineering and Expertise Network, an association of institutions and companies addressing the topic of human factors in engineering.
The 10th HE2Net Symposium took place in Arcachon, France and was devoted to the topic of Human Factor of Artificial Intelligence. Experts of the Human Factors field and the Artificial Intelligence field could exchange views on questions related to the inclusion of AI methods in human-machine collaboration.
Dr. Alain Pagani presented recent advances on Artificial Intelligence at DFKI, including work on non-invasive human monitoring techniques developed at the Department Augmented Vision.
Photo: Sylvain Hourlier (THALES), co-organizer of the HE2Net Symposium and Alain Pagani (DFKI GmbH).