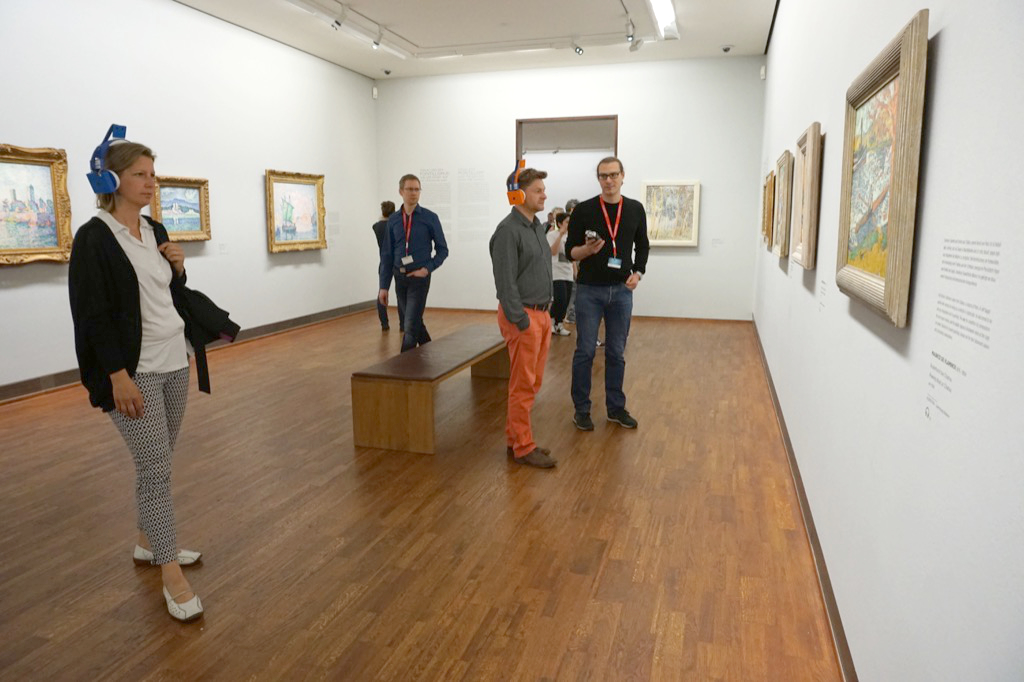 The Augmented Museum Guide developed in the EU project Eyes of Things has been selected by the EU innovation radar as a "Creation Innovation" and is presented on the innovation radar website. The Innovation Radar platform builds on the information and data gathered by independent experts involved in reviewing ongoing projects funded by H2020, FP7 or CIP. The aim is to make information about EU-funded innovations from high-quality projects visible and accessible to the public in one place (the EU's new Innovation Radar platform).
The Museum Audio Guide 3.0 is a new type of Audio Guide for museums, where the headset used for audio information is equipped with a miniature camera and a image processing chip. The chip runs an image analysis software that has been trained for a specific exhibit and is able to recognize artworks such as paintings while the user is simply passing by. The painting recognition module is running constantly, but does not consume much power thanks to the dedicated hardware module and the efficient implementation. Thus, the camera-equipped headset can be used for an entire day without the need to change the batteries. From the visitor perspective, this new type of audio guide seems completely natural, as audio information is provided only in the right context, and without the need to care about the technology. An artificial-intelligence-based algorithm is able to detect when the visitor might be interested in audio information and delivers a soft sound notification, informing the user that audio information is available. The visitor can then decide to play the recorded audio by pressing a single button. This technology has already been developed as an output of a former European project ("Eyes of things"), and several prototypes could be successfully tested at the Albertina Museum in Vienna.
The main developers of this demonstrator were the Austrian company Fluxguide and the department Augmented Vision at DFKI.
Contact person: Dr. Alain Pagani