It is a great honour to announce that our Horizon2020 project LARA, won the Madrid Challenge of the European Satellite Navigation Competition, ESNC 2017. GeoImaging from Nicosia, coordinator and technology partner of LARA project together with SignalGeneriX from Limassol, a technology partner of the project, received the prestigious award on behalf of the LARA consortium.
The ESNC Awards Ceremony took place November 7, 2017 in front of an international audience during the European Space Week 2017 in Tallinn, Estonia.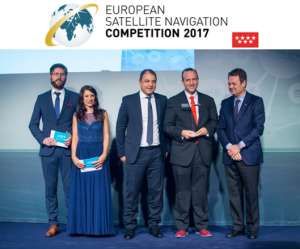 Dr Stylianidis, coordinator of LARA project and Dr Tasos Kounoudes of SignalGeneriX receive the award from the Director of the GSA, Mr Carlo des Dorides

The ESNC annually awards the best services, products, and business ideas using satellite navigation in everyday life, spurring the development of respective market-driven applications.
This award is a confirmation of success for all the hard work invested by all project partners especially now that the project enters the commercialization phase.
A complete list of this year's ESNC winners is available at the ESNC 2017 Hal of Fame.