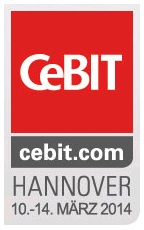 FastMRO – If you are visiting CeBIT 2014 and are interested in the latest results on Augmented Vision for the Maintenance, Repair, and Overhaul of Agricultural Machines, visit us at Hall 9, Booth D44. Our colleagues are happy to show you how helpful AV can be.
If you cannot make it, check it out here.
If you are interested in Wearable Computing and Human Analytics, visit us at Hall 9, Booth F43 and experience our latest results from the European research project EASY-IMP.
Don't miss it!