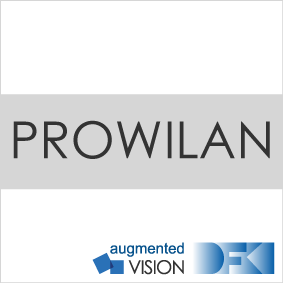 Contact person: Jason Raphael Rambach
Funding by: BMBF
Grant agreement no.: 16KIA0243K
Begin: 01.02.2015
End: 31.01.2018

Professional Wireless Industrial LAN
Due to the rising requirements of the industry for a flexible and cost-efficient production, secure and robust wireless solutions are steadily gaining much interest. The BMBF project "Professional Wireless Industrial LAN – proWiLAN" comprises a number of experts from a consortium of eight German organizations developing the next generation of wireless radio technology, which will meet the rapidly growing requirements of the future industrial applications.
The aim of the project is to improve robustness, bandwidth and latency of wireless solutions so that even sophisticated or safety-critical applications such as augmented reality or radio-based emergency stop button can be efficiently and user-friendly supported. The common wireless technologies allow stable execution of cooperative Augmented Reality applications only to a limited extent. Besides, in inaccessible environments where assembly and maintenance work should be performed, present-day wireless technologies cannot satisfy the growing requirements.
Necessary and planned innovations include, among others, a multi-band-capable radio interface, which is not sensitive to interferences in each single band and thus is always immediately available. This makes very fast response times of applications possible. It is important to be able to ensure short response times of the systems in order to e.g. achieve the guaranteed shut down time of a machine in case of an emergency stop. Another key innovation of proWiLAN is the integration of a powerful 60-GHz module, which brings a significant increase of transmission data rates. Furthermore, a localization method for industrial environments should be integrated, so that mobile devices should be capable of determining their location and orientation in space. In order to get a high customer acceptance, novel Plug & Trust process developed in proWiLAN, which allows a quick and easy commissioning, retrofitting and security, is of key importance.
proWiLAN is funded by the research program ICT 2020 — Research for Innovations by the Federal Ministry of Education and Research (BMBF) with a total of 4.6 million euro. The project started in February 2015 and runs until the beginning of 2018. In addition to the DFKI as project coordinator, the consortium includes ABB AG, IHP – Leibniz Institute for Innovative Microelectronics, IMST GmbH, NXP Semiconductors Germany GmbH, Bosch Rexroth AG, Robert Bosch GmbH and the Technical University Dresden.