"Automotive Robust Radar Sensing"
The main objective of the project AuRoRaS is the research and development of intelligent methods to enable high-resolution automotive radar sensors of the latest generation algorithmically and software-wise for the first time for the purpose and requirements of highly automated to autonomous driving (level 4-5). The innovation consists in resolving various artifacts that radar sensors have physically caused by artificial intelligence methods.

Hauptziel des Projektvorhabens AuRoRaS ist die Erforschung und Entwicklung von intelligenten Methoden, um hochauflösende automotive Radarsensoren der neuesten Generation algorithmisch und softwareseitig erstmals für den Einsatzzweck und die Anforderungen des hochautomatisierten bis autonomen Fahrens (Level 4-5) zu befähigen. Die Innovation besteht darin verschiedene Artefakte, die Radar Sensoren physikalisch bedingt aufweisen, mit Methoden der Künstlichen Intelligenz aufzulösen.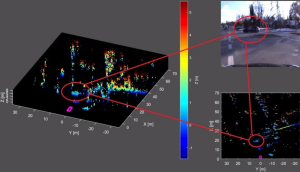 Partner :
ASTYX GmbH (Dr. Georg Kuschk), Lise-Meitner-Straße 2a, 85521, Ottobrunn, DE
BIT Technology Solutions gmbH (Geschäftsleitung), Gewerbering 3, 83539 Pfaffing OT Forsting, DE
| | |
| --- | --- |
| Kontakt: | Jason Rambach ; Mahdi Chamseddine |
| E-Mail: | Jason.Rambach@dfki.uni-kl.de |
| Telefon: | +49 631 20575 3740 |